Tatzelwurm

Photograph and drawing of the Tatzelwurm.

Cryptid Information
AKA
Stollenwurm, Springwurm, Arassas, Praatzelwurm
Year First Seen
1934 (Presumed)
Biological Class
Reptile/Mammal
Authenticity Status
Real
Location
Swiss Alps
The
Tatzelwurm
is a mythological animal, a worm-like cryptid. In Alpine folklore, the Tatzelwurm is a stubby, lizard-like creature that resides in European countries. It takes the appearance of a cat with the hind-end of a serpent with no hind legs. 
Sightings
It is rumored to live in several areas of Europe, including the Austrian, Bavarian, Italian and Swiss Alps. It has several regional names including Stollenwurm, Springwurm, Arassas and Praatzelwurm.
Balkin Photograph
In 1934 a Swiss photographer named Balkin allegedly saw a strange creature near a log and photographed it. The resulting interest in the creature inspired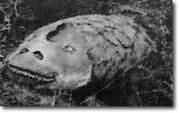 the Berliner Illustrierte to sponsor an expedition in search of the Tatzelwurm, but the expedition was a failure and interest quickly faded.
Tatzelwurm sightings have continued to the present day, and German cryptozoological researcher Ulrich Magin has published several articles in Fortean Times'  and his own magazine Bilk documenting them.
Gallery
Ad blocker interference detected!
Wikia is a free-to-use site that makes money from advertising. We have a modified experience for viewers using ad blockers

Wikia is not accessible if you've made further modifications. Remove the custom ad blocker rule(s) and the page will load as expected.